The BMW shark family in the 70s and 80s covered almost every segment. From the small 3 series to the stately limousine of the 7 series. Lowering cars also does not know the limit of body sizes, which attracted our attention and encouraged us to expand the range of coilover suspensions with a new set.

Filling the offer for the sharks
The range of coilover suspensions we offer has allowed for a long time to lower almost every "shark". The pleasure of using our suspensions can be enjoyed by users of the BMW E21, the above-placed segment of the E28 5 series and the leading representative of the BMW family with a characteristic front, of course the E24 6 series Now this group is joined by the BMW 7 Series E23, for which we have created the MTSGWBM29 set.
This set also perfectly complements the range of suspensions for the flagship BMW model. The E23 is the third generation of the 7 series after the E32 and E38, in which we enable it to be lowered with our coilovers.
Weld-in on the front axle
Looking at this set, most fans will immediately recognize it in the position of a classic BMW. And this is due to the design of the front suspension. As with other models from this era, we offer a weld-in solution. It bypasses the obstacles associated with the integrated damper housing and allows you to enjoy a full-fledged coilover suspension.
The bracket welded to the steering knuckle has one more significant advantage. By screwing a threaded shock absorber into it, we can influence its overall length. This allows the height of the car to be altered without affecting the spring. The set includes a wrench intended for an additional lower adjustment nut. The upper one, traditionally for our coilover suspensions, is the hexaCOIL nut.
This is still not the end of interesting facts! A completely new camber plate was created especially for the E23, matching the fitting holes of this large limousine. So also here, in addition to changing the height of the car, we give you the opportunity to adjust the angle of of the wheels to your preferences.
Even today, more than 40 years after its creation, E23 can positively surprise with its behaviour on the road. By enabling the release of a pinch of sporting spirit, we want to not take too much comfort from using this model. That is why we also use Eibach springs on the shock absorbers of both axles in this set, providing a healthy compromise between dynamics and comfort.
The BMW E23 is experiencing its second youth. Once a rare luxury limousine. Today, a stately classic with character. We are glad to see such old cars still on the road. Especially when their sihouette looks a bit younger by bringing it closer to the ground.
Summary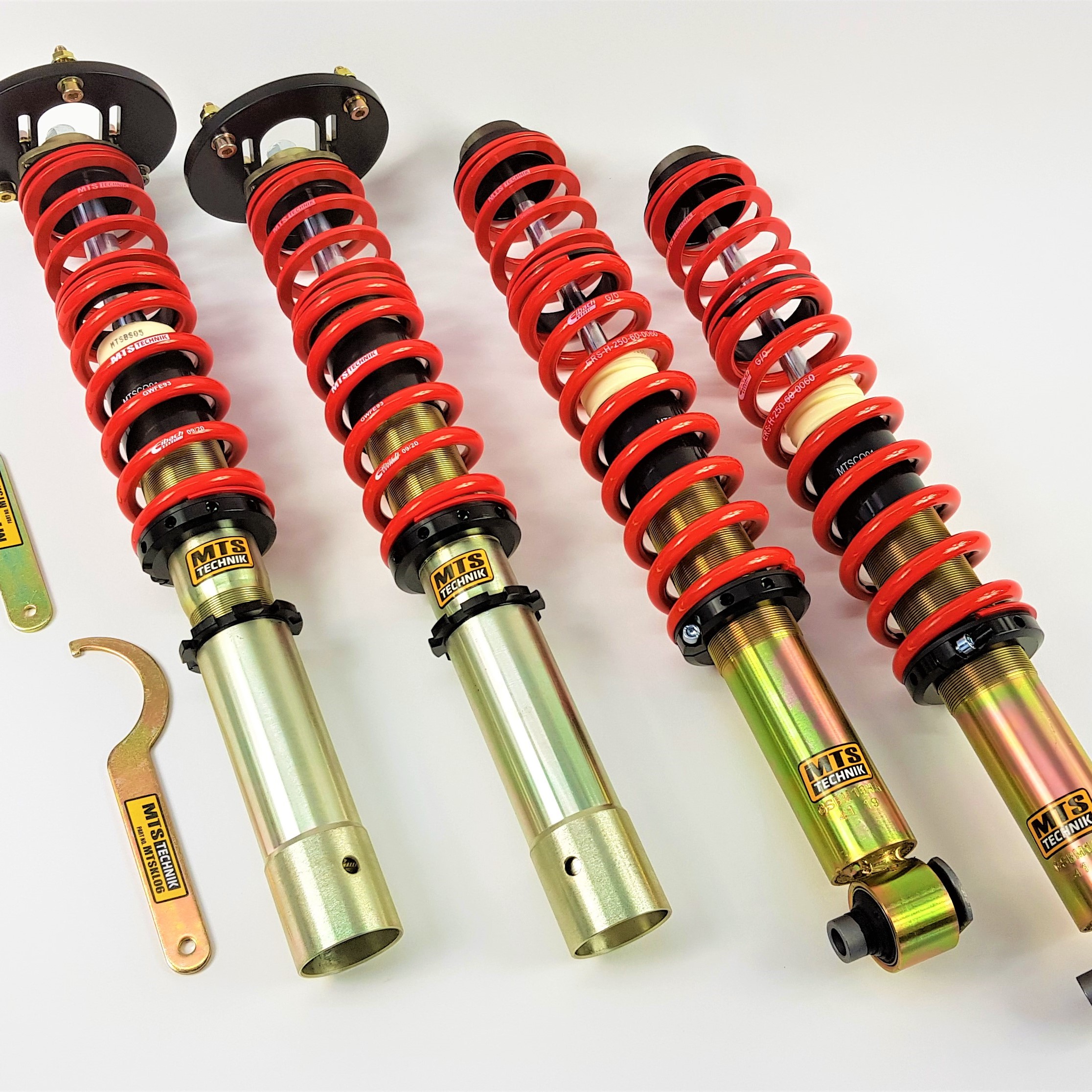 Article Name
BMW E23 coilover set - MTSGWBM29
Description
A detailed description of BMW E23 coilover suspension
Author
Publisher Name
Publisher Logo