The BMW shark family was broad and represented in almost every segment available at the time. However, this concept, dictated by the characteristic style of the car front, was most strongly associated with the E24 model. Series 6 delighted with proportions and class. Today, it is experiencing a renaissance with brand fans who bring their cars to perfection. There is no excessive tuning here. Only the details count. And as befits a coupe – also a lowering.
Coilovers for a classic coupe…
In our wide range of coilover suspensions for classic BMWs, there had to be a position for the most beautiful representative of this noble family. The MTSGWBM19 set is a weld-in construction already well-known from other models. The solution commonly used by the engineers in the 70s and 80s – shock absorbers integrated with the steering knuckle, makes it very difficult to change the suspension for another alternative. We bypassed this obstacle by offering coils with front struts ready to be welded in place of stock McPhersons. The core of the structure is the bottom bracket.
It will take a few moments for the skilled mechanic to prepare the bracket for installing the remaining suspension components. Installation is only seemingly complicated. It is based on a few simple steps and is similar to replacing the suspension on the BMW E30. The construction based on the welded bracket also gives the comfort of changing the height of the entire strut, without affecting the so-called spring preload. Speaking of springs – naturally each of the struts, both on the front and rear axles, is equipped with springs manufactured by Eibach. Despite the dynamic spirit of Bavarian cars and the E24 sports figure, it is already a classic car. Their owners don't want to race. They want to enjoy the ride. Properly selected spring characteristics and quality, signed with the industry leader logo, allow trouble-free use of this set also on a daily basis.
Similar to other such sets in our offer, also MTSGWBM19 as standard is equipped with front axle camber plates. The pleasure of driving an old BMW with the most classic RWD drive can be additionally conquered not only by lowering its center of gravity, but also by adjusting the angle of the wheel according to your needs. Lovers of perfect wheel fimentt can additionally lean the wheel. On the other hand, followers of the classic style will be able to correct the wheel alignment, which naturally appears when bringing the car closer to the ground.
The hexaCOIL nut is already a must. In this case, it is naturally both front and back. Adjusting the car's height has been maximally simplified. So that the use of coilover suspension would be even greater pleasure.
Summary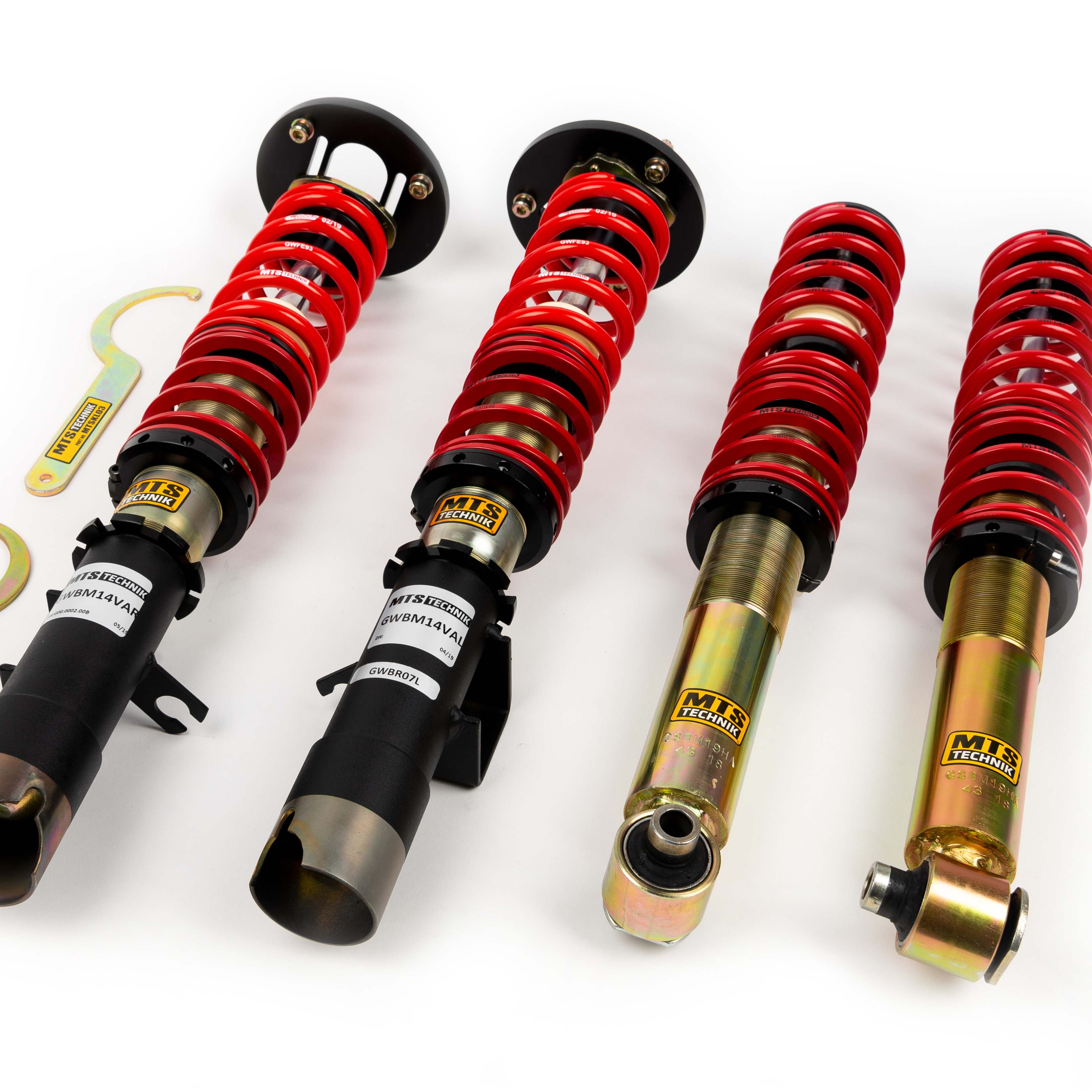 Article Name
BMW E24 / E28 coilover set - MTSGWBM19
Description
A detailed description of the coilover suspension for BMW E24
Author
Publisher Name
Publisher Logo