The BMW 3 Series has a rich history. Current generations enjoy elegance and a sporty spirit. The earlier E36 and E46 are still extremely popular on the road, which can also be seen in the number of sold MTS Technik coilovers. However, it is worth remembering the old E21.
Pioneer of the popular series
The BMW E21 is the first car in the family to receive "3" in its name, starting the smash hit series. Compact body, typical of BMW rear drive and intriguing shark appearance, so strongly reminiscent of larger models from this period. It had to be a recipe for success! A success that continues to this day. Currently, E21 is a sought after classic. The vast majority of its current users are people with a sense of style. They restore his second youth, while wanting to emphasize his feisty character. It directs them to the desire to lower. And we come with a real solution.
The MTSGWBM16 set consists of 4 threaded struts ready to put a small shark on the ground. Gold zinc, solid piston rod – these are the advantages that this set is to be used for a long time in a car that is already several dozen years old.
Despite the age of the car, the set designed for it could not do without innovation. Therefore, the height of both axles can be easily adjusted with the hexaCOIL springs perch.
The springs rest on the nuts, which also in this case fall into the MTS Technik mainstream and come from the Eibach factory.
At the other end of the front axle springs there is one of the biggest flavors of the whole set. E21 coilover sets are equipped with camber plates! The precisely calibrated top mount allows you to easily set not only the height, but also the angle of the wheel relative to the body, which often strongly affects not only the appearance but also better driving.
Thoughtful solutions to classic problems
The designers of the BMW from the 70s did not yet anticipate a fashion for lowering. The intention was to preserve the factory shock absorber throughout the life of the car. The problem with this solution is the integration of the shock absorber housing with the trailing arm. MTS Technik sets have been designed so as to enjoy the full coilover suspension in the easiest way possible even in a period car. And even different diameters of front shock absorbers are not an obstacle for us. While the MTSGWBM16 set is designed for cars with a 45mm shock absorber, the MTSGWBM17 set can be purchased for the version with a 51mm shocks.
Summary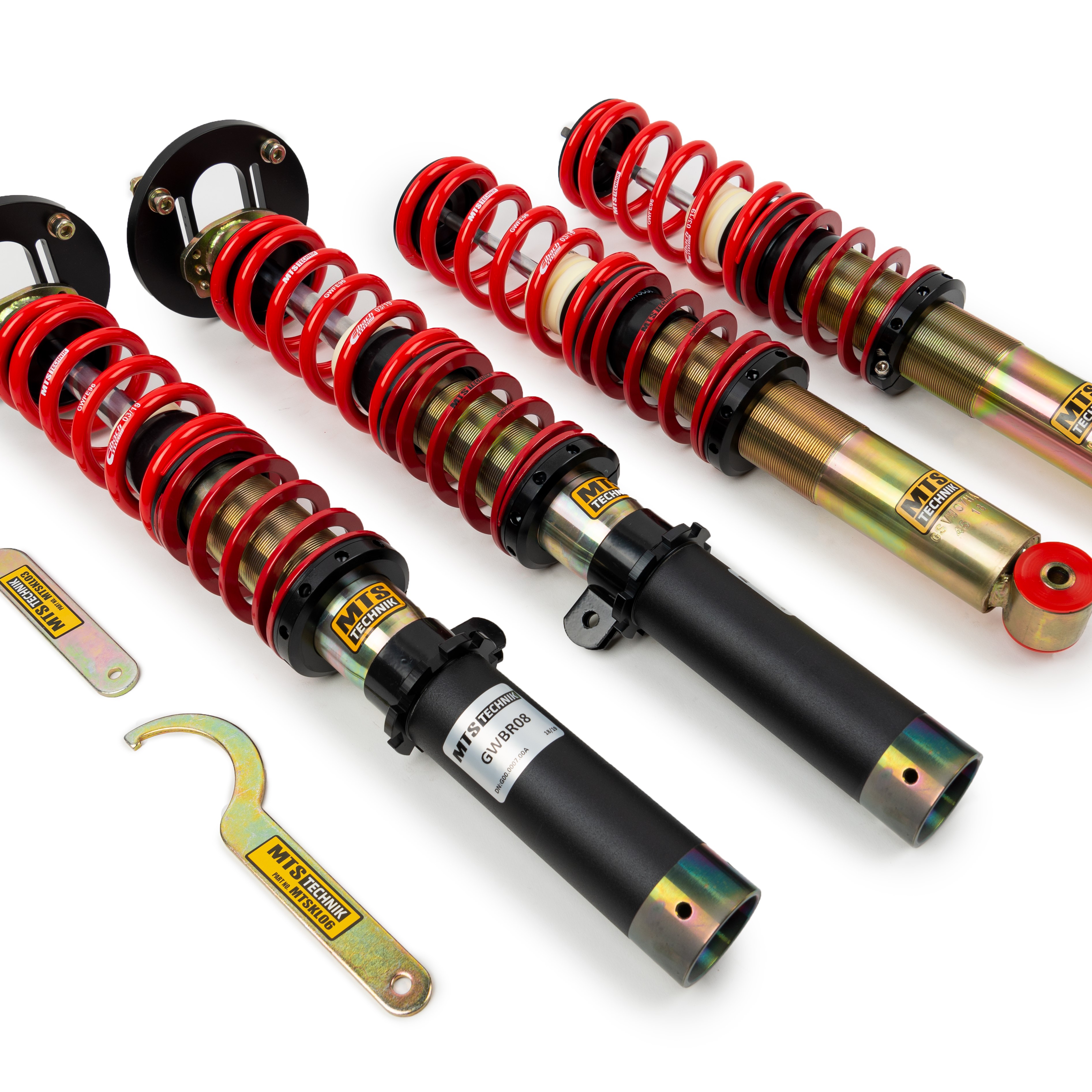 Article Name
BMW E21 coilover set - MTSGWBM16
Description
A detailed description of BMW E21 coilover suspension
Author
Publisher Name
Publisher Logo