Essen Motor Show 2019 has ended. Almost 2 weeks of stay at the largest tuning event in Europe was an amazing experience for the whole company. We brought a lot of memories and conclusions from Essen.
The most important event of the year
As you probably guessed, taking part in such a large event as an exhibitor carries countless preparations. Despite the fact that the event itself is traditionally held at the turn of November and December, for us, the first formalities began already at the beginning of the year when we sent the application. When we received a positive response from the organizers, we started to act. Development of the stand design and its implementation is due to, among others, our talented team of technicians who created the details of the building during breaks in creating prototypes of new suspensions. Then everything had to be delivered to the Messe Essen so that it was ready for the first visitors. To this end, the first members of the team set off on the road a few days before the start of the event. It helped to put everything together, so that already on the preview day, November 29, everyone present could see the impressive stand with MTS Technik coilover suspensions.
10 days of hard work
The Preview Day, commonly known as the press day, is an only seemingly calm day. Yes, there is no crowd of visitors then, but it was on that day that we had the most talks with professionals from the tuning industry and not only from Germany but also from other countries, also from outside Europe. Our stand attracted attention and exemplary suspensions exhibited on it aroused interest. In addition to sets, among others for BMW E34, Mazda MX-5 or VW Golf IV we also presented our offer of camber plates, which have become one of the main topics of interested inquiries.
At the weekend, the gates in Essen opened to the public at 9:00. The number of people waiting in line long before the official opening time indicated that tuning in Germany is an extremely strong branch. An infinite wave of spectators also reached hall 5, where our stand was located. Just like among people from the industry on Friday, as well as individual users of modified cars, our suspensions caused considerable interest. It was noticeable that in most cases our products were viewed in detail. An important added value for German visitors was the Eibach logo on our springs. The producer from Finnentrop enjoys an unwavering reputation in his homeland. In turn, our hexaCOIL nut appeared as the main curiosity.
The number of visitors who came to our stand during the first weekend can easily be counted in thousands … Our team answered each question in a professional and understandable way for both a professional drivers and a novice lovers of lowering. On weekdays, the halls were open a little shorter, from 10:00 to 18:00. However, this did not mean less work for us. Also from Monday to Friday, many viewers came to us, interested in the "new" brand of suspensions. "New", although existing for 15 years. Now, thanks to TUV verification, the MTS Technik logo will be recognized not only in Poland and other European countries but also on the demanding German market.
All conversations with visitors were intended not only to familiarize them with our offer but also to listen to the voices coming from the German market. We listened to inquiries directed to us about sets dedicated to specific car models. As in Poland, talks about BMW cars and those from the VW group reigned. The undisputed leader among the queries was the BMW E30. A dozen or so threads a day relating to the E30 indicate that Germany still loves this classic BMW. It was nice to look at the faces of the interlocutors, with growing satisfaction at the news that YES, we have coils for this model!

Of course, there were also questions about cars that we do not have in our offer of coilover suspensions or cambers. However, this did not interrupt the conversation. On the contrary. We have meticulously noted every question of this type. We came back to Poland with a few pages list of models for which you would like to have the suspension. Cars from various manufacturers appeared on the list, not only from Germany. They were both fresh cars and classics from a few decades ago. Popular and quite rare cars. The list has already been handed over to our technicians. Certainly many of these items will be finalized in the form of ready sets in our offer.
Essen Motor Show – general impressions
Although most of our stay was focused on booth 5F34 in hall 5, we were also able to explore other halls. You could find almost anything there. Numerous companies from the suspension sector are only a fraction of the entire offer of the event. On the long list of exhibitors, there were also entities associated with optical tuning, rims or car cosmetics. In the hall 4, in turn, there was space for those who prefer to watch cars in motion. Drifting shows were held there. Many stands were accompanied by cars. Their cross-section was extremely wide. However, tuning trends could be seen. They were not always German cars. The latest Toyota Supra had a very large representation at many stands. The latest hot-hatch from Korea, Hyundai i30N, also holds tight.
Demo cars are still not all that has been seen in the Essen halls. It was enough to go to hall 1A located in the underground to move to the arena of the most prestigious meeting of modified cars. The degree of modification of each of the cars present there showed that nothing is impossible in tuning. Vibrant colours, beautiful rims, amazing interiors. And this attention to the smallest details…

But the Essen Motor Show is not just tuning! It is also an unusual (and for many the only) opportunity to see exorbitantly expensive exotics and classics. A meeting on an average street of cars like Lamborghini Aventador is an event for many. On EMS, such cars are only a foretaste. Unfortunately, their wild nature must give way to the glow of such automotive icons as Mercedes 300 SL, Porsche 356 or Ferrari F40. Most of these cars were for sale. Their price was adequate to their condition and legends. The amounts were expressed in euros and were often seven-digit…

One of the more expensive cars at the entire fair, which stood proudly opposite our stand, can boast such value. It's about a black monster – Bugatti Chiron.
EMS 2019 – summary
Despite the fact that the Essen Motor Show cost a lot of work for each of our team members, we consider the decision to appear there as an exhibitor to be the right one. We want to thank everyone who has ever exchanged a word with us. Thank you to our current business partners from Poland and Europe who came to Essen to meet us. We also thank those who expressed interest in cooperation with MTS Technik. We believe that the conversations held in this extraordinary environment will result in a long-term cooperation. We are glad that we could have so many conversations with many people. We were able speak German, English and often Polish! The Essen Motor Show 2019 officially ended on Sunday, December 8 at 18:00. For us, the culmination of the entire stay was a return journey to Poland of 1,100 km. We came back with a handful of new ideas, and one main goal – to return there in 2020!
Summary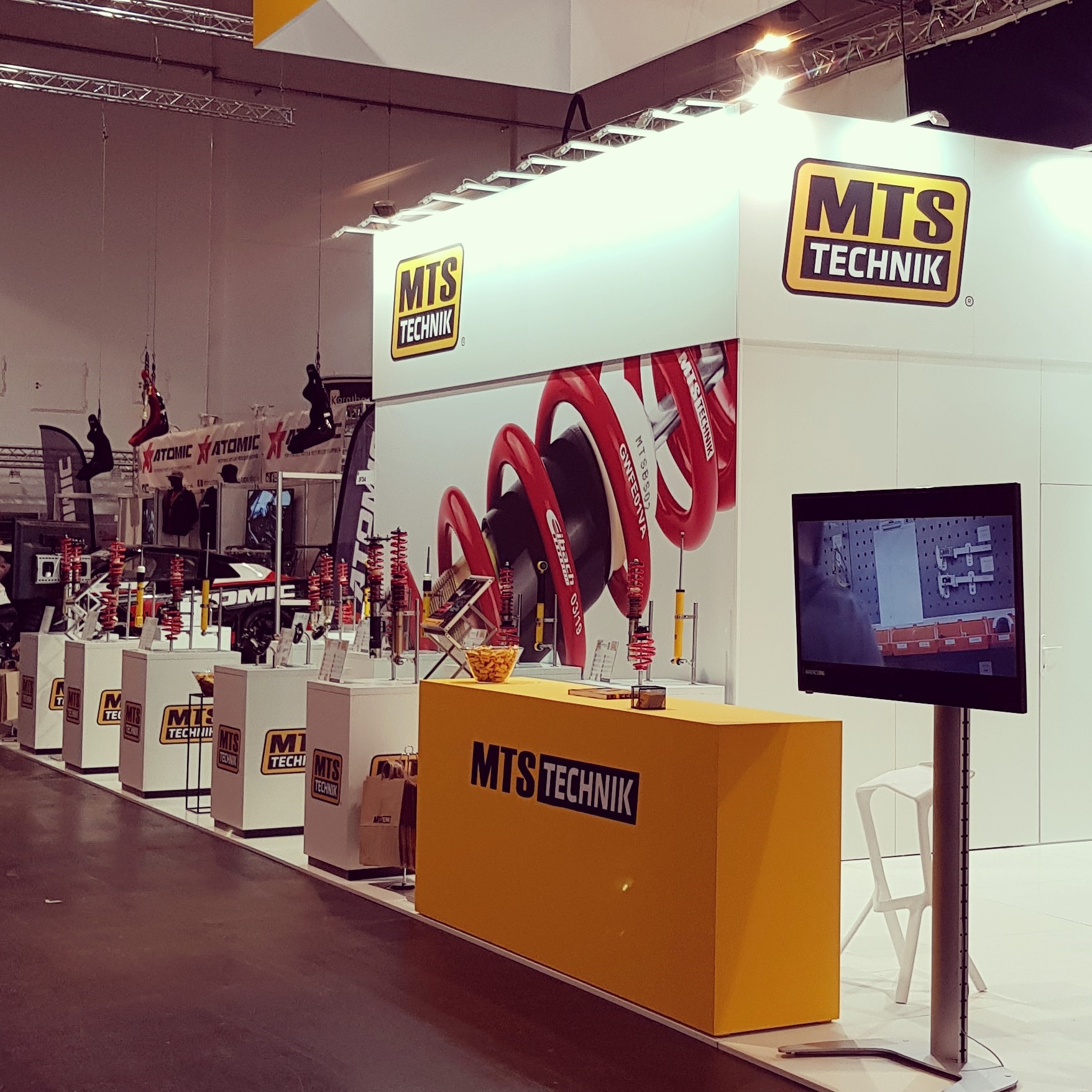 Article Name
Our impressions after Essen Motor Show 2019
Description
General impressions after participating in Essen Motor Show.
Author
Publisher Name
Publisher Logo